Choir meets on Wednesday nights from 7:00 – 8:00. We sing the 1st , 2nd, and 4th Sundays at the 8:30 am service. We are always happy to have new members – no great talent is needed – just a desire to "make a joyful noise to our Lord".
Ages for the Choir – middle school thru adults of all ages. We are more of an
inter-generational choir these days.
Praise & Worship – contemporary service every Sunday morning from 10:30 – 11:30. Do you enjoy playing an instrument (guitar, drums, keyboard, trumpet, violin, etc.) and might consider becoming a part of our praise band?
Do you have a passion to lead music?
Please see Laura Young after church on any Sunday or contact the church office. We would love to have you become a part of our worship team at the 10:30 am service.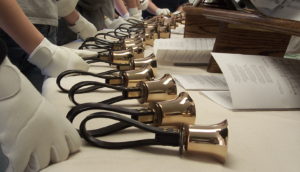 Bell Choir
Directed by Bob Laird
The Bay Bells practice Thursday evenings from 5:45 to 7:15 pm. We always welcome new ringers. Our music is colored coded – our ringers do NOT need to know how to read music. If you are interested in joining us, please contact Bob.
The Bell Choir rings every 3rd Sunday at the 8:30 am service.