In the Heart of Town, lo
cated at the head of the Chesapeake Bay on the North East River, the town of North East was settled in the 1600's and is rich in history. Our church's location in the heart of town contributes to North East's historical quaintness by reflecting the history and architecture of the early 20th century.
Historic Parsonage
North East UMC is the first Methodist Church in American
history
to own
a parsonage for the use of its minister.
Original Parsonage Photo Courtesy of Nick Demond
Early Records
The first public record of Methodists in North East was in October 25, 1794, a "deed of one acre of land from Jacob Jones to William Howell, John George, David Sweazey, Jacob Jones, John Ford, Robert Hart & Sam Aldridge in trust for the society of religious people called Methodists". The price was 10 pounds, and the site was the high ground where the brick building now stands in the North East United Methodist Cemetery.
By 1836, the chapel's size was no longer adequate and the current site was purchased. A new church was erected and later added to three more times. In the spring of 1902, the members decided to erect a new building in lieu of adding to the church again. The demolition began in June, and in March of 1903, the new church was dedicated.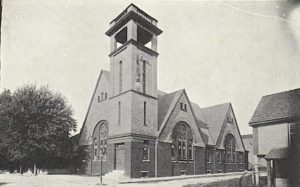 The Church dedicated in 1903 Photo Courtesy of Nick Demond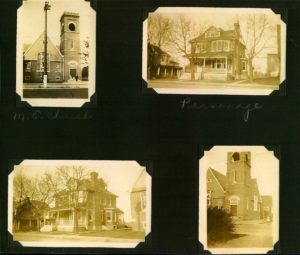 On May 7, 1911, the minister of NEUMC, Rev. J.P. Otis reported waking to an orange glow and crackling sound of fire. The double house located next to the parsonage was on fire. Rev. Otis ran next door to arouse the occupants and discovered that the parsonage too was being consumed by the fire. The church bells of the Methodist and Episcopal churches were used to alarm the citizens of North East to the danger of the fire. The fire was fought and confined with bucket brigades, but not before it consumed the double house next to the parsonage, the parsonage, and the church.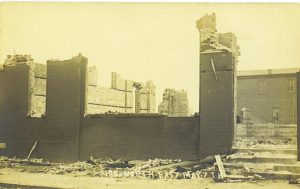 Fire Damage Photo Courtesy of Nick Demond
The new church of similar design, was built and dedicated on July 30, 1912. For over 200 years, the North East United Methodist Church has been committed to serving the Lord through its many ministries and missions and will continue to encourage the community through the dedication of its members.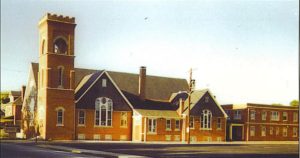 *Historical photos courtesy Nick Demond